Welcome to Our site...
NEW...Check out our LIVE CHAT feature at the bottom of the page! If we are available, we will be glad to answer any trekking/South America questions you might have!

More Ecuadorian & Colombian updates have been added by our boots on the ground...

Ecuador:
NEW-Flying from Quito to Guayaquil & then by bus to Cuenca.
New-More hiking & updated info around Otovalo.
NEW-Flying from Quito to Manta on the coast, then trekking info on Puerto Lopez on the coast via Manta


Updated-

more

Ecuador Tips

Colombia:


New-A few days in Medellin
New-

Guatape

, la Piedra & area
New-the zona cafetera,

Hacienda Guayabal

& coffee plantation tour



If you like this site, Please let us know!
This site has replaced the older "Hostal Cloud Forest site" and we hope that this new site has much more to offer. We also encourage you to submit your experiences in South America for publication on this web site.

Whether this is your first trip to South America or not this site will give you ideas of great places to go and sights to see. No tourist bus trips here, just our experiences from many years traveling and trekking in South America passed on to you. One thing to note here at the urging of Lori, is that no one is paying us to endorse the places we have visited. We are simply giving you our impressions, both good & bad of where we ended up staying or places we visited. That gives you a heads up on what to possibly expect if you do visit some of the places mentioned on this site.

We have done the legwork and enjoyed these places so much that we want you to have a chance to "Travel in Our Shoes" and see them as well. We won't recommend a hostal that we have not stayed in and will always try and give you the pros/cons, for instance "Does 24 hr hot water really mean 24 hr hot water?" You'd be surprised what passes for hot water in some places...

We are not five star travelers and make no bones about it. We prefer to get off the beaten track and experience South America as it really is and immerse ourselves headlong into the different cultures that abound there. Our backpack is our suitcase and small inexpensive locally owned hostals our sleeping preference. Our Spanish is far from fluent, however we can communicate and ask questions and enjoy being surrounded by the language. A lot of the areas we visit do not speak much if any English so even an entry level 100 Conversational Spanish class from a local community college will be a huge help. Or alternatively I picked up a copy of Rosetta Stone Software on e-Bay, not even the most current version I might add, and with as little as thirty minutes a night it has really helped my Spanish.

My wife Lori & I started traveling together before we were even married and have traveled throughout the United States, Canada, Britain, Finland, Europe and Egypt. Since 1996 we set our sights on caving trips to the deep pits of Mexico's Sierra Madre Orientals and then on into South America. Since then we have visited/trekked through Argentina, Brazil, Chile, Colombia, Ecuador, Peru & Uruguay. All the knowledge, insights, places & experiences from those many trips have until now have been sitting in our heads filed away with our memories. After our first trip to Ecuador I started a small website to help get some folks to stay at a local/very remote hostal. I got many requests for info on the area and questions on where else in Ecuador would be good to visit. So from all of that I decided that I could build a site that could help those folks new to the continent as well as those looking for other out of the way places to visit. Some places we have only scratched the surface, but we will let you know how you can do the same and at least get your feet wet. I would also welcome those folks that have been to South America to e-mail me their stories/impressions about particular places they have visited. I will include them on this site and give you credit for your submissions.

South America is a vast and incredible continent, filled with amazing places and wonderful people. From Iglesia Las Lajas in Colombia to Ushuaia in Tierra del Fuego where the Andes drop into the Southern Ocean, we want to share what we have seen & done, so why not come "Travel in Our Shoes".
"Travel is fatal to prejudice, bigotry, and narrow mindedness." Mark Twain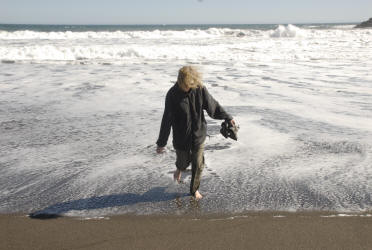 Lori getting her feet wet in the Pacific Ocean on the coast of Chile

Your first tip... Buy a copy of South America on a Shoestring by Lonely Planet, or any other similar travel guide, as there are many to choose from. All have very good general information for the first timer or seasoned traveler. Besides the first hand info that we have on this site, added reference material is always good. Lori & I both have a NOOK e-reader & I was able to download a great 600 page guidebook on Peru & a kids book with Spanish jokes (a great ice breaker). It was always handy and weighed a boatload less being in digital form.

Just recently downloaded the latest version of the Lonely Planet book on Ecuador, very nice addition to the Nook library.

Got us both N2A cards that easily transform our Nook Readers into a full blown Android tablet. Makes a great reader even better. Definitely worth the $50 or so bucks. Very easy, doesn't make any changes to the Nook & you have the choice to go between the original Nook or the Android tablet. Click here for Info.
Questions? | e-mail us at: info@travelinourshoes.com
Submissions of your trek experiences | e-mail us at: submissions@travelinourshoes.com

| | |
| --- | --- |
| | |
| If available I'll Travel/Trek chat with you. | |
NEW! For a friendly and down to earth tourism company for your stay in Ecuador
check out Ecuador Expat Journeys Our Buddy Roger works with these folks
and they do a very good job with their tours. NEW!